As I did say the last time I posted about my hair, and it was also turquoise then as well, I may update how my hairs growing. Especially as I've been thinking about trying some products that are 'supposed' to help with hair growth.
Looking back to my last post (which was a month and a half a go) my hair has grown quite significantly, but I'm impatient and it's at that length where it looks a bit pap left down and not have anything done to it, but its still not long enough to tie up, and I don't like pinning my fringe back as I just don't suit it.
So here's to trying to products, the first one I'm going to try is Lee Staffords Hair Growth line, the Shampoo, Conditioner and the treatment. I might as well seeing as they're part of the 3 for 2 at Boots at the minute, so really it would be rude not too. I have also seen some good reviews and such about these products so I thought why not, start there. :)
Here is my hair this month: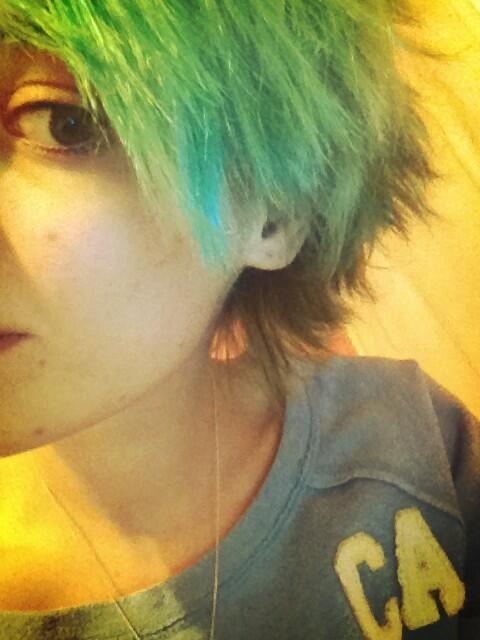 So, it has grown, despite the amount of times I get told, you'll wake up one morning and your hair will gone, oh but it won't I don't very often bleach my hair, unless its gone dark and I want to place a pastel shade on, I've tended to wait til the majority of whatever crazy colour has washed out, then simply put a mid/light blonde on, then usually leave it there. Plus I was told by my hairdresser crazy colours do no damage to your hair whatsoever, just the bleach does, so nerr to anybody who complains at me, my hair is fine, albeit sometimes a little dry, but mostly fine.
The length I'm wanting is one side down to my collarbone, I reckon, as I have one side shaven, which is getting slightly larger each time I shave it much to my mother's disgust ;) (love you really mama!)
Have you ever tried any products to help hair growth? Or any tips, on growing short hair out? Leave 'em for me as I would love to hear about them :)